16. Dezember 2013
Schlechte Nachrichten aus Wewak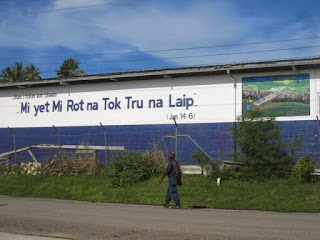 Bitte betet für unsere Freunde in Wewak – Kollegen von MAF und anderen Missionen sowie unsere einheimischen Freunde. Ende vergangener Woche ist die Situation in der Stadt eskaliert und Läden wurden geplündert, begonnen beim christlichen Buchladen, der einfach der erste in der Straße ist. Eine Horde junger Männer machte sich die Abwesenheit der Polizei zu nutze, die gerade interne, aber persönliche Streitigkeiten mit dem Militär zu regeln hatte.
Hier sieht man mal wieder, wie unberechenbar der Alltag in PNG sein kann und wie Leute, die für Gesetz und Ordnung sorgen sollen, mal wieder nicht privates und geschäftliches trennen können, sich ihre Position zu nutze machen und schwupp, das Gemeinwohl aus den Augen verlieren. Und das wird sofort ausgenutzt. Jeder sucht nach dem eigenen Vorteil, ohne Rücksicht auf Verluste und unschuldige Leute. Zustände wie im Mittelalter.
Zuweilen fragen wir uns schon, ob es eines Tages wirklich mal friedlich zugehen wird in Papua Neuguinea und das Land erkennt, wie es sich so oft selbst im Wege steht. Eigentlich ein so wunderschönes und reiches Land.
Geld und erhöhte Entwicklungshilfe wird das nicht leisten können. Allein die Menschen müssen sich von innen heraus ändern. Und das kann schlussendlich nur durch Hinwendung und Erneuerung durch den Gott der Bibel geschehen. Mögen die geplünderten Bibeln und christlichen Bücher laut reden zu denen, die sich ihrer bedient haben!
Der christl. Buchladen in Wewak von außen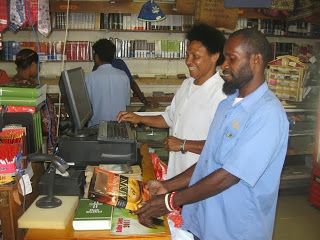 So sah es einst im Kassenbereich aus …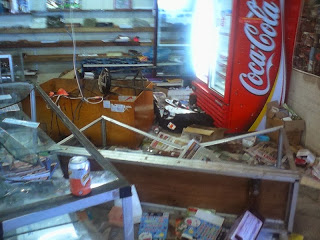 und so am Freitag nach der Plünderung.
Hier zwei Artikel aus der aktuellen Tagespresse von PNG:
Source: The National, Monday December 16th, 2013
YOUTHS went on the rampage in Wewak town last Friday, looting shops and damaging property.
Police withdrew their services following a stand-off with Defence Force soldiers and the subsequent attack on two police officers outside the Wewak police station by thugs last Thursday.
Confusion and fear gripped the town as youths tried to force their way into shops and damaged public property.
The Wewak Christian Bookshop was looted and items including the Bible were stolen. Musical instruments, mobile phones, electronic de­vices and stationery were removed as well.
A number of Asian-owned shops reported that valuables were stolen.
Shops closed immediately.
Guard Dog security officers bee­fed up manpower at Tang Mow stores, the Papindo supermarket and the three commercial banks in town.
The police station in the heart of Wewak was closed. There was no police officer or police vehicle on the streets when the youths ran riot.
Police arrived after midday in a convoy of vehicles with Maprik MP John Simon, who called on all youths to go home.
Wewak town mayor Charles Malenki, Wewak Island local level government president Pius Bugatar and Wewak rural LLG president Francis Hevu joined Simon in calming the situation.
The shops remained closed throughout the weekend except Tang Mow Supermarket, which opened for about two hours on Saturday under tight security.
Hundreds of shoppers waited outside from 7am.
Tables for women involved in informal business activities between the police station and the main market area were burnt by police.
The trouble in Wewak stemmed from an incident in which a soldier was manhandled and locked up by police last Wednesday afternoon.
Soldiers arrived at the police station on Thursday morning to discuss the matter.
Source: The National, Monday December 16th, 2013
MAPRIK MP John Simon has condemned the looting of the Wewak Christian Bookshop last Friday and called on youths to change their attitude and take ownership of the town.
Simon said he was ashamed by the youths ransacking the book shop and taking items, including Bibles.
He said the rampage affected businesses and caused anxiety among the people.
"If we cause these businesses and the town to shut down, where will we go,"Simon asked.
"If we go to Madang or Lae, they will not accept us because we failed to protect our own town.
"They will chase us out when we go to access services in their towns and cities.
"So I urge all youths to take ownership of this town because this is where we belong.
"We have land to farm for food and money. I call on all youths to go back to your areas and allow normalcy to return."
The youths took advantage of the absence of police in town on Friday morning to loot the bookshop and other businesses.
The Wewak police station was closed after the officers protested the assault on two policemen in front of the station on Thursday. Yangoru-based officers Andreas Pe­ni and Herman Ko­­ni suffered injuries, while the windscreen of their vehicle was smashed. Governor Sir Michael Somare met with defence force and police representatives, acting provincial administrator Otto Ganai and mayor Charles Malenki to restore normalcy.