14. Januar 2021
Die Weihnachtsreise eines Pilotenwichtels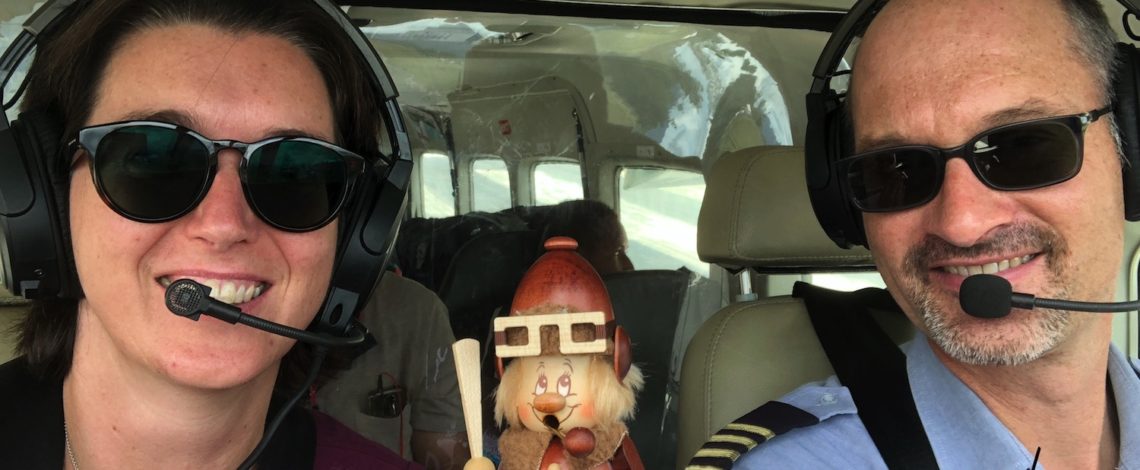 Am 23. Dezember 2020, dem letzten operativen Flugtag für MAF PNG vor dem Weihnachtswochenende, flogen wir mit unseren Freunden und Kollegen Sharlene und Brandon von Mt. Hagen über Eliptamin nach Telefomin, um unsere Mitarbeiter Shiv und Ryan zu besuchen und Weihnachten mit ihnen zu verbringen. Mit uns an Bord war unser kleines Souvenir aus Mandys Heimat, unser Pilotenwichtel Räuchermann.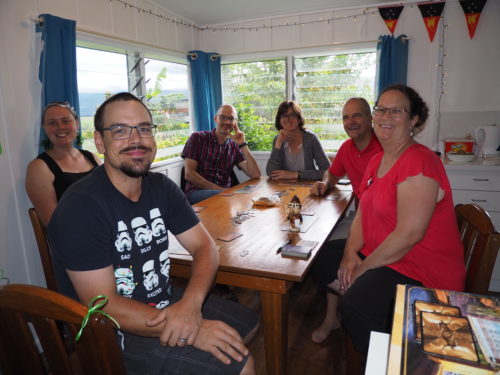 Räuchermänner wurden erstmals 1850 erwähnt. "Räuchermann" bedeutet "Rauchpuppe" oder "Weihrauchraucher" und ist – genau wie der Schwibbogen – ein berühmter Bestandteil der deutschen Weihnacht. Das ganze ist eine Holzschnitztradition aus Mandys Heimat, dem Erzgebirge, in Sachsen. Wir haben den Pilotenwichtel-Räuchermann das letzte Mal gekauft, als wir in Deutschland waren. Logisch, oder, wenn Mathias als Pilot fliegt, mussten wir definitiv auch einen Räuchermannpiloten haben! In der Weihnachtszeit werden Räuchermänner zusammen mit Schwibbogen (Kerzenbögen), Bergarbeiterfiguren, Engeln und Weihnachtspyramiden in deutschen Haushalten ausgestellt, insbesondere in Mandys erzgebirgischer Heimat. Inzwischen verbreitet sich diese Tradition in ganz Deutschland und in der ganzen Welt – sogar hier in Papua-Neuguinea!
Damit sie rauchen, wird ein kleiner Weihrauchkegel angezündet und auf die untere Hälfte der zweiteiligen Holzfigur gelegt. Der ausgehöhlte obere Teil wird über den angezündeten Kegel gesetzt, der in der hohlen Figur niederbrennt, wobei der Rauch das Mundloch des Räuchermann verlässt und eben duftet.
Während unserer Zeit in Telefomin, während wir Spiele spielten und Weihnachten feierten, durfte unser kleiner Pilot natürlich ein paar Räucherkegel rauchen, natürlich echte Krottendorfer 🙂
Unser Räucherpilot ist ein Design von Christian Ulbricht. Schaut euch doch mal auf die Website des Unternehmens und möglicherweise findet ihr weitere zauberhafte Räuchermänner (und Frauen…), vielleicht sogar von eurem Beruf außerdem viele weitere schöne Holzarbeiten …
https://www.ulbricht.com/d/
A Smoke Man's Christmas travel with friends
On 23 December 2020, the last operational flying day for MAF PNG before the Christmas weekend, we flew with our friends and colleagues Sharlene and Brandon from Mt Hagen via Eliptamin to Telefomin to visit our co-workers Shiv and Ryan and to spend Christmas with them. With us on board was our little souvenir from Mandy's home area, our pilot smoking man.
German "Räuchermann" translates to "smoking manikin" or "incense smoker" and – just like the Schwibbogen – is a famous part of German Christmas. The Räuchermann was first mentioned in 1850. A smoke man is a wood carving tradition from Mandy's home area, the Erzgebirge, the Ore Mountains in Saxony, Germany. We bought it last time we were in Germany. Mathias being a pilot we definitely had to get a Smoking Pilot!
During Christmas time, smoking men are displayed together with Schwibbogen (candle arches), miners' figurines, angels, and Christmas pyramids in Germany households, particularly in Mandy's home area. Meanwhile this tradition spread across Germany and into the world – even to Papua New Guinea!
For this, an incense cone is first lit and then put on the lower half of the two-part wood figurine. The hollowed-out upper part is placed over the lighted cone, which burns down inside of the hollow figurine, the smoke leaving the mouth hole of the Räuchermann.
During our time in Telefomin, while we were playing games and celebrating Christmas, our little pilot of course got to smoke a few incense cones 🙂
Our smoking pilot is a design from the Christian Ulbricht company. Have a look at their company's website and you might find some more stunning Christmas ornaments and decorations, even of your profession and many more nice wood work…
https://www.ulbricht.com/e/